April 16 Weigh In
The magic number is 269.4! I lost 4.6 lbs this week. Finally! I've been waiting for a bigger number again. lol. 
But I've also decided that I just want to try to lose around 10 lbs a month. I think that's completely reasonable. Right? I know everywhere I look it says 2 lbs a week is like the magic number. 
My birthday is this upcoming weekend. I don't know what I'm going to be doing but I'm sure I might mess up some progress, but I'm ok with that. 
I didn't go to bootcamp this morning because my side is in agony. I'm currently laying on a bamboo mat on the floor with an ice pack on it. eugh.
Friday at bootcamp I ran a 1/4 mile in 2:42! Ok, so there was about 8 seconds of me walking (whilst huffing and puffing) but then the trainer yelled out to me to speed up. I cursed him under my breath and started running again. After I finished some of the girls were like "good job!" Yes, I may have been the largest and slowest… but I finished less than 10 seconds after the 2nd to last person! 
I think I'm going to sign up for another month of bootcamp because I hate myself. Or rather because I love myself. I want to be the best me I can be! 
March 19 Weigh In
So my fears were confirmed. I lost 1.2 pound this week. Now it could just be my 'time' if you know what I mean or it could just be because I didn't do as much this week.
I'm not discouraged. As I said, I didn't work out as much this past week. How can I sit here and be pissed that I didn't have the same weight loss as last week when I sweat balls last week and didn't work out as much this week? Also I had a bit of a bad meal yesterday. So ah well. You know what? I didn't GAIN! So let us yay for that!
Someone just told me that warm water helps with bloating - honey with a slice of lime/lemon, green/white tea, tea with honey.. all with warm water
This morning I started the day with my bootcamp. It kicked my ASS. It was so hard. And surprisingly? The majority of the people were thin and fit. I was definitely one of the biggest people there. I just thought it would be more people that were a bit out of shape. 
It was an hour long class that is trying to kill my outer fat girl. I'm appreciative.
The hardest part was when I was supposed to do 10 jumping jacks then 10 push ups, 9 jumping jacks then 9 push ups, 8 jumping jacks then 8 push ups, etc. We were allowed 3 seconds to get down/up to do the next exercise. Let me just say, on the second round of that (this time with cross ski exercises and crunches) I got up and down a few times then just laid on my mat for a second and just did crunches for the duration. 
On my way home I dropped off my friend then went to the track by my house and did my walk/jog/run thing. I was still riding on that high you get after working out and thought… why not? Lets do this! Of course by my third lap (4 is a mile) I wanted to die. But I finished up the mile regardless.
So, moral of the story? Don't be angry if you don't lose weight when you know you didn't work for it OR when it could be caused by something you can not control. 
I am EXHAUSTED. I'm about to head to Sam's for my weekly fruit and veggie shopping. 
Stay motivated! We can do it!
March 12 Weigh In
So to be completely honest I was terrified about this weigh in. 
Between my knee injury, going out drinking one night, having a little lamb and pork this week (damn my father for cooking!)… I was really worried that I wouldn't lose much weight at all (IF ANY!) 
But… the moment of truth. This morning the scale said…. 281.4! 281.4! Read it again! 281.4! omg yay!
Last week when I weighed myself I was 286.6 ( I really should have said 286.6 on my first post but I thought 285 sounded better because I was ashamed. Why should I be ashamed? you don't know me!) Regardless… I lost 5.2 lbs!!!!!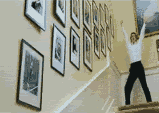 This is my year!!!! 
This is OUR year! Lets get it done!